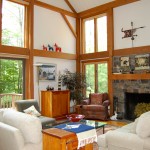 4 Winter Hill, Eastman NH is a spectacular home. Meticulously maintained by the original owner, this home might be 20 years old but it sure doesn't look like it. Yankee Barns have a timeless beauty that never gets old.
This home, priced at $359,900 with over 2700 square feet of living space, is one of the best values in Eastman today.
If you like the thought and feel of the warmth of that wood brings to a home, this property is for you. Everything is well thought out and you even get a seasonal view of Eastman Lake. The lot is primarily deciduous trees so in the heat of summer the home is shaded and in the winter you get solar gain from the sun room.
For more photos or a video tour, just let me know. jeffadie@gmail.com