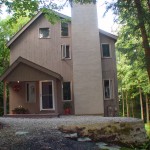 This Eastman Community home, located in the town of Grantham has been transitioned into a lovely and charming home. Some of the upgrades include: granite counter tops, plenty of kitchen storage, new flooring, and paint throughout.
The sunshine pours into this home due to the southern exposure and the abundance of windows on the south side. This property has two ECA owned retired lots on the north side so privacy is protected.
Bedroom size is very generous as both bedrooms on the second floor are as big as anyone should ever need. The screened porch gets morning sun but by evening the shade from the trees takes over and keeps the porch cool. If kids need a place to play there is a nice level, grass back yard. For the bigger kids the ski and hiking trails are just a few hundred feet down the road. Walk to the lake and beach or just ski/stroll about the trails.
If this home sounds interesting to you then please contact me via email: jeffadie@gmail.com or call my cell at 603-568-0609