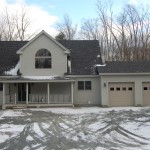 It's hard to believe that it's been over a month since my last post! That says a lot about how busy November and December have been! I'll save that for another post.
This post is about the newest listing of mine, located on 4 Bear Dr in Eastman. This home has so much to offer since the owner is the builder who actually built the home. Over sized garage doors, wood floors throughout, finished space in the lower level. Huge windows, master bedroom suite with a very large walk in closet.  Granite kitchen counters on top of nicely made cherry cabinets. The back deck gets plenty of sun and the screened porch can be accessed from the deck or the interior of the home. The homes exposure is to the south which only invites you to spend some time on the deck and relax.
For more info and photos click here.