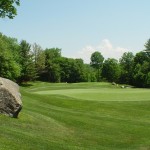 What a great week of golf and the weather could not have been more perfect. Golfers from around the state flocked to Eastman and took advantage of a golf course that was in just amazing shape.We also have to tip our hat to the weather. It was just perfect golf weather for the tournament as it has been for all of this summer.
With the recent capitol improvements that the community and golf course invested, hosting the NHGA Amateur Championship is a wonderful stamp of approval. The Eastman community is always re-investing in itself as can be seen with not only the golf course but the new activity center.
If you ever wondered what the course or community are like, now is a great time to see just how special Eastman is.